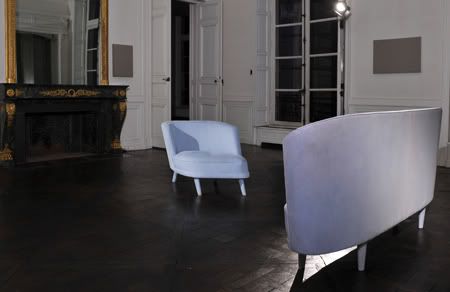 Acne are slowly taking over our lives – clothes, films, kids' toys. You probably heard weeks ago that the Swedish mega-brand was adding furniture to the mix.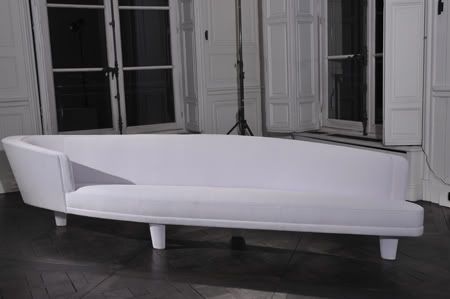 Inspired by the work of renowned Swedish designer Carl Malmsten and, in particular, his New Berlin sofa.
'With this sofa as a reference, I started to look at how we work architecturally, instead of just treating, say, the upholstery,' revealed Acne's Jonny Johansson.
'I decided to objectify its form from a perspective play. As we do in fashion we played with proportion, lineage and structure – stretching, squashing and pulling the simplistic shape to create new sculptural forms.'
The odd proportions of the pieces create a modern edge to a classic design. And the best bit? They dressed them in denim!!
It's Acne after all.
'For me denim is always in fashion.'
Let's hope they don't cost $$$ - I'm moving out soon!
PLEASE READ
A BEAUTIFUL MESS.. TOO MANY TRENDS NOT ENOUGH STATEMENTS CLAIMS NO CREDIT FOR ANY IMAGES FEATURED ON THIS SITE UNLESS OTHERWISE NOTED. ALL VISUAL CONTENT IS COPYRIGHT TO IT'S RESPECTFUL OWNERS. A BEAUTIFUL MESS.. TOO MANY TRENDS NOT ENOUGH STATEMENTS IS IN NO WAY RESPONSIBLE FOR, OR HAS CONTROL OF, THE CONTENT OF ANY EXTERNAL WEB SITE LINKS. INFORMATION ON THIS SITE MAY CONTAIN ERRORS OR INACCURACIES; THE SITE'S PROPRIETOR DOES NOT MAKE WARRANTY AS TO THE CORRECTNESS OR RELIABILITY OF THE SITE'S CONTENT. IF YOU OWN RIGHTS TO ANY OF THE IMAGES OR VIDEOS, AND DO NOT WISH THEM TO APPEAR HERE, CONTACT US AND THEY WILL BE PROMPTLY REMOVED.

GURUIZZM [AT] HOTMAIL [DOT] COM

GURUIZZM © 2011