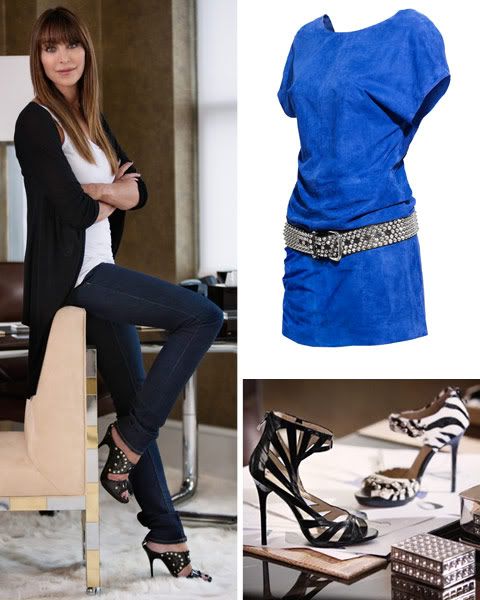 You've long lived in the world of luxury. Was it difficult to create an affordable collection for the masses that still maintains the ritzy aesthetic of Jimmy Choo?
The H&M customer is slightly younger yet we wanted to stay true to what Jimmy Choo is. There's always a rock chick there, but also a sense of elegance. The Jimmy Choo autumn '09 collection had a big Debbie Harry and punk rock chic inspiration with leopard print, neon, studs and dynamism. So that was our starting point. For H&M, you can see the trickle down effect. We were not sure at first whether we could use real leathers, studs, crystals and rivets, but when we found what was possible it completely exceeded our expectations.
Prior to the H&M collaboration, had you ever shopped at the store before?
I have certainly bought a few pieces from H&M in the past. They do great everyday basics that are still on trend for the wardrobe.
What advice would you give to shoppers who want a more expensive-looking wardrobe, but on a budget?
Invest in accessories. You can always modernize your look with key accessories.
Did you approach the ready-to-wear design differently from the way you approached the shoes? If so, what were the major differences?
When Margareta van den Bosch approached me with the idea of doing ready to wear as well as the accessories, I thought it would be a great opportunity to create the full look of a Jimmy Choo woman. We first designed the shoes and bags and then followed with the clothes. You could say the clothes are the "accessories" to the shoes and bags. When approaching the clothing collection I first thought , "What would I wear with the shoes and bags?" And Margareta was keen to do a party collection with the launch being in November. We created a fun, accessible collection to reach a young customer with a fashionable and independent spirit.
Do you have any dates in mind for a formal ready-to-wear launch of your own?
We have no plans to do a ready to wear for Jimmy Choo main line.
You're personally known for having a Hollywood kind of glamour. Do you ever slum around in sneakers or sweat pants? Do you own a pair of Uggs or fuzzy slippers?
Of course I wear sweat pants at the weekends or when flying as I travel so much and need to be comfortable. And the only other shoes that I wear besides my Jimmy Choos are sneakers for when I exercise!
Posted by

Guruizzm
2 comments

PLEASE READ
A BEAUTIFUL MESS.. TOO MANY TRENDS NOT ENOUGH STATEMENTS CLAIMS NO CREDIT FOR ANY IMAGES FEATURED ON THIS SITE UNLESS OTHERWISE NOTED. ALL VISUAL CONTENT IS COPYRIGHT TO IT'S RESPECTFUL OWNERS. A BEAUTIFUL MESS.. TOO MANY TRENDS NOT ENOUGH STATEMENTS IS IN NO WAY RESPONSIBLE FOR, OR HAS CONTROL OF, THE CONTENT OF ANY EXTERNAL WEB SITE LINKS. INFORMATION ON THIS SITE MAY CONTAIN ERRORS OR INACCURACIES; THE SITE'S PROPRIETOR DOES NOT MAKE WARRANTY AS TO THE CORRECTNESS OR RELIABILITY OF THE SITE'S CONTENT. IF YOU OWN RIGHTS TO ANY OF THE IMAGES OR VIDEOS, AND DO NOT WISH THEM TO APPEAR HERE, CONTACT US AND THEY WILL BE PROMPTLY REMOVED.

GURUIZZM [AT] HOTMAIL [DOT] COM

GURUIZZM © 2011