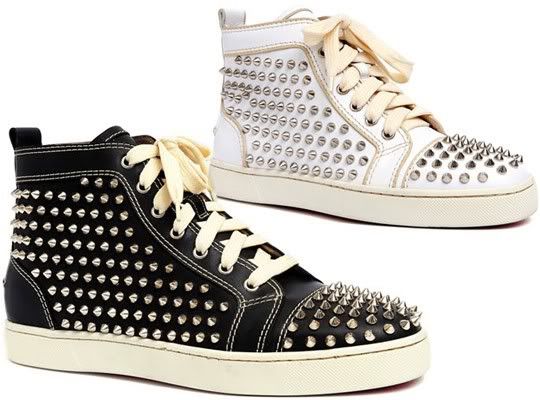 As you probably already know but I'm going to tell you anyway, Christian Louboutin, will soon release an array of sneakers.
Fully studded sneakers dressed in black or white leather with all-over studded detailing. These kicks have an extreme price tag of $1,200!! Interested? Wait in line for its Spring 2010 debut.
Louboutin's are everywhere - or they will at least be now.
PLEASE READ
A BEAUTIFUL MESS.. TOO MANY TRENDS NOT ENOUGH STATEMENTS CLAIMS NO CREDIT FOR ANY IMAGES FEATURED ON THIS SITE UNLESS OTHERWISE NOTED. ALL VISUAL CONTENT IS COPYRIGHT TO IT'S RESPECTFUL OWNERS. A BEAUTIFUL MESS.. TOO MANY TRENDS NOT ENOUGH STATEMENTS IS IN NO WAY RESPONSIBLE FOR, OR HAS CONTROL OF, THE CONTENT OF ANY EXTERNAL WEB SITE LINKS. INFORMATION ON THIS SITE MAY CONTAIN ERRORS OR INACCURACIES; THE SITE'S PROPRIETOR DOES NOT MAKE WARRANTY AS TO THE CORRECTNESS OR RELIABILITY OF THE SITE'S CONTENT. IF YOU OWN RIGHTS TO ANY OF THE IMAGES OR VIDEOS, AND DO NOT WISH THEM TO APPEAR HERE, CONTACT US AND THEY WILL BE PROMPTLY REMOVED.

GURUIZZM [AT] HOTMAIL [DOT] COM

GURUIZZM © 2011