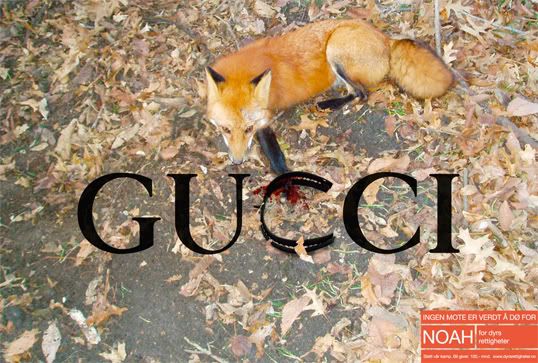 In connection with "Fur-free friday", 27th november NOAH has launched an ad campaign with the slogan
"No fashion is worth dying for" in cooperation with advertising agency DDB Oslo.
The ad came as a full page in the newspaper Aftenposten on Monday.
NOAH marks the international brand day Fur-free friday by dressing Norwegian cities with brand new anti-fur material, and launched a striking ad campaign against the fashion houses that use fur. This ad is made in collaboration with DDB Oslo, and as sad earlier -had sit out a full page in the newspaper Aftenposten.
- No longer will they be able to say that they use fur because they do not know better, there is no excuse to buy the remains of animals that have suffered and died to be hung on a hanger. NOAH will be on Fur-free friday to ensure that the fur industry's true face shows well in all Norwegian cities,
says media contact Siri Martinsen.
In November NOAH launched its new anti-fur campaign website www.PelsUT.no, and eye-catching posters and leaflets, which these days are scattered in major cities and towns throughout Norway.
As a pro-bono project in DDB Oslo, NOAH was also fortunate to be able to stand as the sender in a very striking ad campaign that pressed for a full page of Aftenposten Monday, the campaign illustrates how the clothing brands that still use fur are directly responsible for animal suffering.
The ad in Aftenposten is one of the motives of a campaign against fur-using brands and chains. Gucci as one of the major fashion houses that still uses fur and thereby is selected as the first focal point of this campaign, but other brands should not feel too safe. One uses fur, one is responsible for animal suffering - it applies to both consumers, designers and clothing stores. The campaign also illustrates that all the fur of animals means suffering - regardless of whether the fur came from wild animals or animals in a cage: No fashion is worth dying for
, said Martinsen.
And I couldn't agree more! It makes me sad to see all these people who don't care about how the fur industry is treating animals. It makes my heart break that cause some people want to cover themselfs with fur, animals have to suffer.
When will people start caring about others than themselfs?
Why must animals suffer so that people can wear fur instead of faux fur who looks the same?
If you agree with me and NOAH - spread the word!
PLEASE READ
A BEAUTIFUL MESS.. TOO MANY TRENDS NOT ENOUGH STATEMENTS CLAIMS NO CREDIT FOR ANY IMAGES FEATURED ON THIS SITE UNLESS OTHERWISE NOTED. ALL VISUAL CONTENT IS COPYRIGHT TO IT'S RESPECTFUL OWNERS. A BEAUTIFUL MESS.. TOO MANY TRENDS NOT ENOUGH STATEMENTS IS IN NO WAY RESPONSIBLE FOR, OR HAS CONTROL OF, THE CONTENT OF ANY EXTERNAL WEB SITE LINKS. INFORMATION ON THIS SITE MAY CONTAIN ERRORS OR INACCURACIES; THE SITE'S PROPRIETOR DOES NOT MAKE WARRANTY AS TO THE CORRECTNESS OR RELIABILITY OF THE SITE'S CONTENT. IF YOU OWN RIGHTS TO ANY OF THE IMAGES OR VIDEOS, AND DO NOT WISH THEM TO APPEAR HERE, CONTACT US AND THEY WILL BE PROMPTLY REMOVED.

GURUIZZM [AT] HOTMAIL [DOT] COM

GURUIZZM © 2011