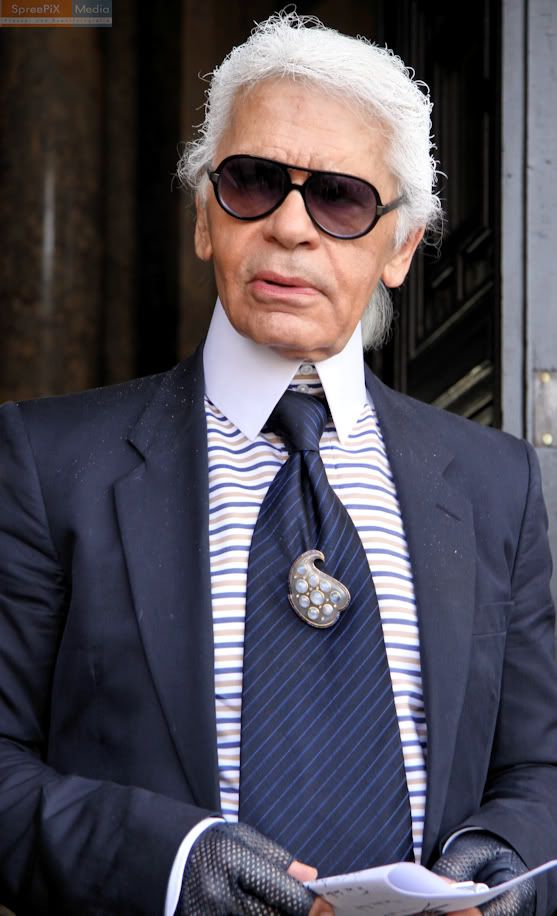 The weekend is coming up but I know some of you, myself included, have the pleasure of working on saturdays too.
So to all my weekend-workers, here's something by Karl that always helps me through every week!

"Everybody has a camera, and it is flash-flash-flash, and I am a puppet, a marionette, Mickey at Disneyland for children to play with. In Japan, they touch me. I have Japanese women pinch my ass, so now I must say, 'You can have the photo, but please don't touch me.' You cannot pinch the ass of a man my age! And I cannot go out without something for my eyes, because someone might throw chemicals in my face, and I would be like my childhood French teacher whose wife burnt him with acid, Mr. Pommes-Frites, can you believe the name. I can cross the street nowhere in the world, I can never go into a shop. Oh, it's horrible, horrible." Lagerfeld, the master of the contrapuntal, grins a bit and then whispers, "In fact, I do like it. It's very flattering, and very fun."

You might be a bit mean and you may have forgotten that curvy women love the 2.55 too but I still love you, Karl!
PLEASE READ
A BEAUTIFUL MESS.. TOO MANY TRENDS NOT ENOUGH STATEMENTS CLAIMS NO CREDIT FOR ANY IMAGES FEATURED ON THIS SITE UNLESS OTHERWISE NOTED. ALL VISUAL CONTENT IS COPYRIGHT TO IT'S RESPECTFUL OWNERS. A BEAUTIFUL MESS.. TOO MANY TRENDS NOT ENOUGH STATEMENTS IS IN NO WAY RESPONSIBLE FOR, OR HAS CONTROL OF, THE CONTENT OF ANY EXTERNAL WEB SITE LINKS. INFORMATION ON THIS SITE MAY CONTAIN ERRORS OR INACCURACIES; THE SITE'S PROPRIETOR DOES NOT MAKE WARRANTY AS TO THE CORRECTNESS OR RELIABILITY OF THE SITE'S CONTENT. IF YOU OWN RIGHTS TO ANY OF THE IMAGES OR VIDEOS, AND DO NOT WISH THEM TO APPEAR HERE, CONTACT US AND THEY WILL BE PROMPTLY REMOVED.

GURUIZZM [AT] HOTMAIL [DOT] COM

GURUIZZM © 2011